Community
With Weston Favell shopping centre being right at the heart of the local community, we love to welcome charities into the centre to show support, help them raise money and increase awareness.
Could your local charity or group benefit from a fundraising event or awareness day in the centre?
Contact us for more information.
In the last 12 months our community zone efforts have raised
£28,607.51
for charities such as Young Minds, Crazy Hats, RNIB, Therapy Dogs and many, many more!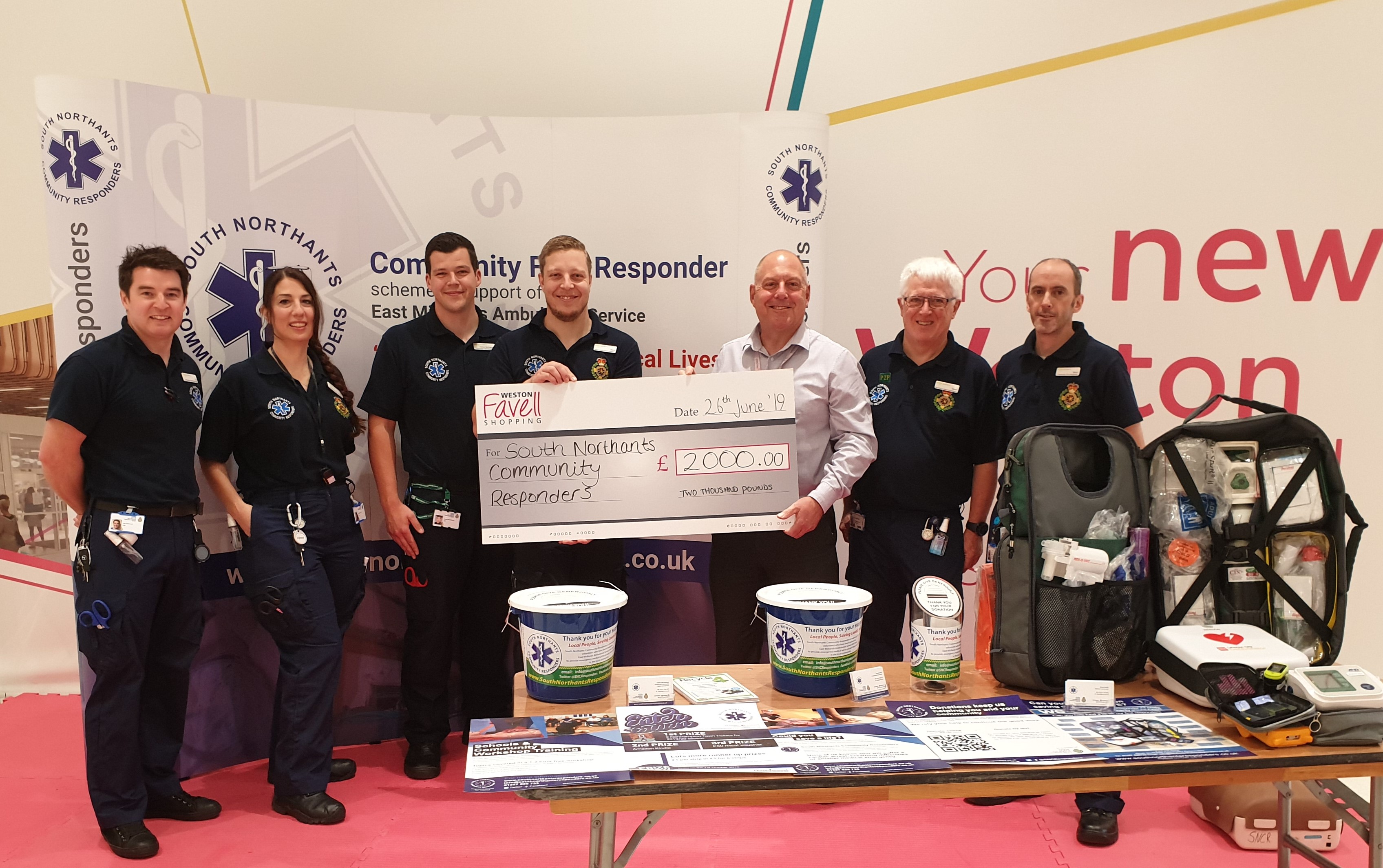 Weston Favell shopping centre is pleased to announce South Northants Community Responders as their Charity of the Year.
South Northants Community Responders scheme was set up because approximately 600 people die each year unnecessarily of cardiac arrest. South Northants Community Responders are all highly trained volunteers who operate as a charity under the governance of East Midlands Ambulance Service NHS Trust. All CFR's are trained in safe techniques that can be used to save lives.
East Midlands Ambulance service control room will dispatch them to an emergency call within their area, at the same time as an Ambulance. Due to the CFR's being closer they are able to provide initial care whilst the crew are on their way. Community First Responders would complete the essential patient assessment and began treatment. Once the crew arrive, a patient handover will take place and the Ambulance crew transport the patient to the hospital if needed. Community First Responders are primarily called to attend "Category 1 and 2" emergency calls, these are 999 calls which the East Midlands Ambulance Service deem to be "serious and/or life-threatening" and therefore by their very nature need medical help to arrive as quickly as possible, usually within the first 8 minutes from the 999 call being made.
David Smith, Scheme Coordinator for the South Northants Community Responders, said "It is fantastic news that Weston Favell shopping centre have chosen us as their charity of the year and as a scheme we are looking forward to raising awareness of who we are and also the basics on saving a life"
Weston Favell shopping centre's Manager, Kevin Legg added, "We are looking forward to working closely with South Northants Community Responders over the next year, hosting workshops and raising much-needed monies that can fund essential equipment including oxygen and an Automated External Defibrillator, as well as pay for insurance and fuel for a scheme car, that will enable the Community First Responders to attend emergency calls in the area"
To find out more about the charity, head to southnorthantsresponders.co.uk.