Customer Services
COVID-19 (Coronavirus) Public Notice
In line with Government guidance, shops selling non-essential goods, hairdressers and the hospitality sector have opened have now re-opened, provided they follow government guidelines to keep staff and customers as safe as possible. Nail bars, beauty salons*, gyms and tattoo parlours, have reopened from 13th July, *however, no treatments on the face i.e threading, eyebrow waxing etc are allowed until after August 1st.
Please check retailers' social media channels and websites for news on individual store closures or opening times. The situation is continuing to evolve so please be aware that published opening hours may vary among retailers and change at short notice, we will continue to update our website as best as possible.
We are working hard to ensure that we can continue to provide a level of service to support retailers who are continuing to trade and serving their communities at this time.
We would like to thank our retailers who are all working extremely hard in very challenging and unprecedented circumstances to ensure visitors are able to access goods and services. We would appreciate your support in respecting Government's advice to adhere to social distancing.
To encourage safe social distancing, the centre is limited to a certain number of customers at any one time and we are unable to go over that number. Therefore, please be aware that we will be managing the entrance during peak hours, to ensure we do not fall foul of this limit being posed on us.
Please be advised that you may well need to queue at busier times, and we would appreciate your patience and support.
We have implemented a one-way system throughout the centre – please look out for the floor graphics and signage to assist you.
To be safe and to be fair to every customer we need to limit the number of people coming in groups, so a maximum of 2 people per household to shop in the centre at any one time.
Please be aware that children under the age of 16 should be accompanied by an adult when visiting the centre.
As of 24th July, Government guidelines now state that wearing an appropriate face-covering in shops and supermarkets in England is mandatory. Please ensure you are wearing your face covering correctly and that your mouth and nose is fully covered.
Thank You.
For the full list of changes at Weston Favell Shopping Centre including store openings, please head to our dedicated COVID-19 update page.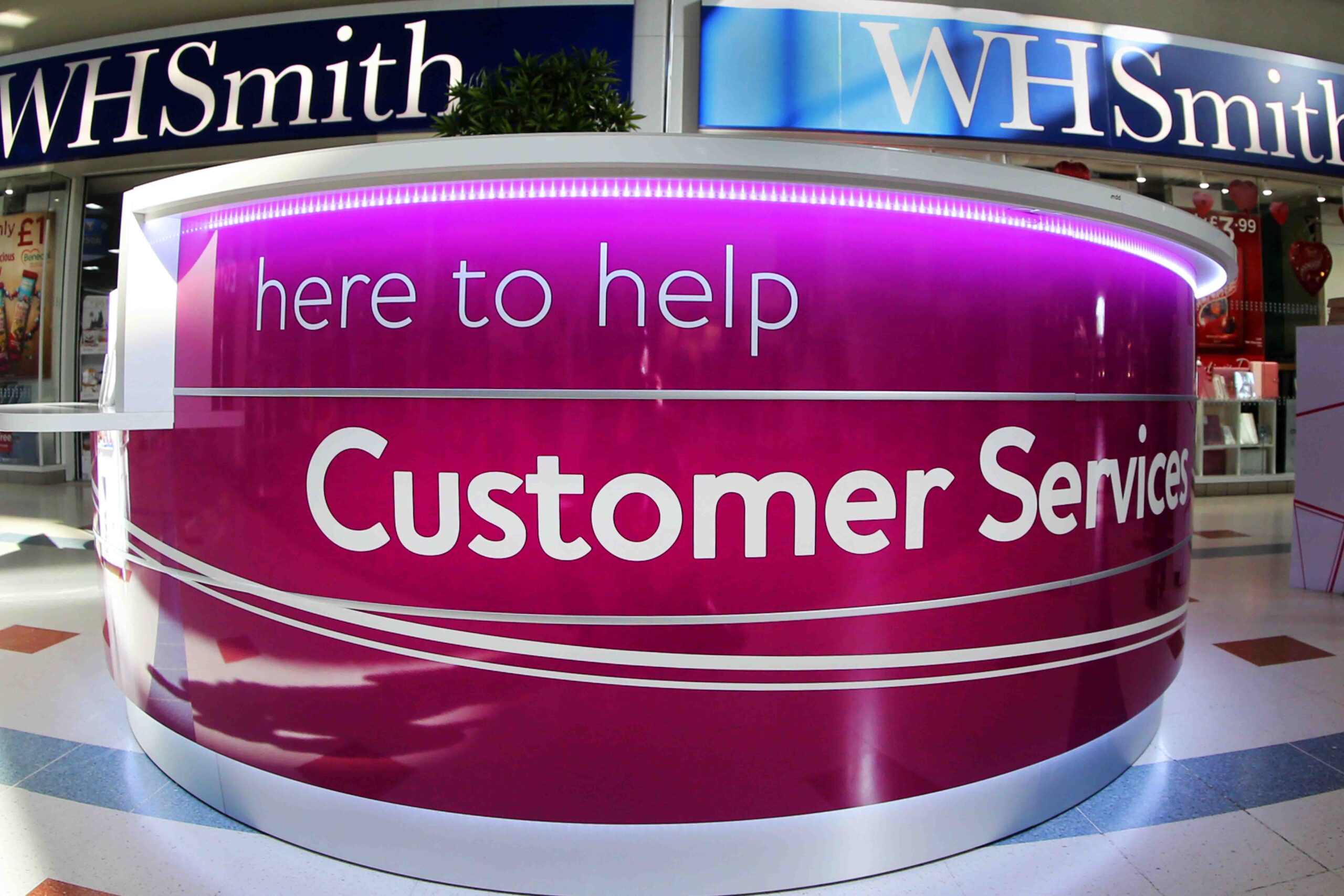 Our customer service desk is located outside WH Smith's and 'The Lounge' run by fully trained customer service staff to a WorldHost standard.
Open Monday – Saturday from 10-4pm.
Outside of these hours please contact the centre management office on 01604 411 521 or speak to a member of our centre staff who will be happy to help.
Click And Collect
Collect your shopping on your way home from work, or even after you drop the kids to school. Get the items you want delivered to your local store and collect them at a time that is convenient for you. This service is available from many of our stores listed below.
3 STORE
BON MARCHE
BOOTS
BURTON (located inside Tesco)
DOROTHY PERKINS (located inside Tesco)
EE
FRAGRANCE SHOP
GAME
H SAMUEL
O2
PEACOCKS
SHOE ZONE
TESCO
W H SMITHS
WILKINSON
THE WORKS
WALLIS (located inside Tesco)
YOURS
Introducing Amazon Lockers, a simple and effective way for you to collect your parcels. This secure and stress-free way to order and collect items is Amaz-ing. They can be found on the lower mall near the centre toilets and Frango Grill.
---
Disabled Access & Facilities
We have 40 dedicated disabled parking bays covering all entrances.
Easy level access to the centre from the carpark and 2 centrally located passenger lifts linking the lower and upper mall.
We have our Changing Places facility on the lower mall and two further disabled toilets
---
Parent And Child Facilities
We have 18 parent and child bays in our carpark and Baby change and Parent and Child unit available.
---
Security
Weston Favell Shopping Centre is secured 24 hours a day, 7 days a week with CCTV in operation throughout the centre. Our highly trained staff are on hand to help customers.
T: 01604 411521
E: customerservice@weston-favell.com
---
Parking
You can park for FREE in the car park for up to 4 hours. Due to the many offers we have available you are welcome to extend your stay if you need to. Please ask at our Customer Service desk or a member of centre staff and we'll be pleased to help.
The car park is managed by ParkWatch.
T: 01244 283 343
E: info@parkwatch.co.uk